REASONS TO LIVE IN CANADA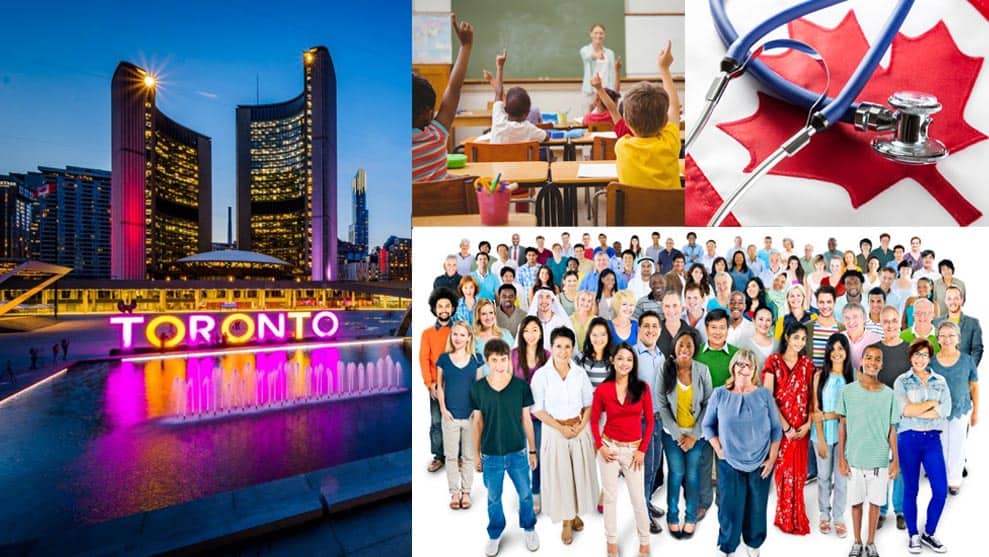 According to official statistics, Canada is one of the best places to live: it is one of the most peaceful and safest countries; it is among the richest nations with very stable and prosperous economy, it's one of the best countries in terms of the quality of education.
Free Education Children:
As a Canadian citizen or permanent resident, education is free from primary to high school in government public schools.
Low Tuition Fees for Post-secondary Education:
Tuition fees at government public institutions are subsidized. Canadian citizens or permanent residents can attend university or other higher institutions at considerably lower tuition compared to most developed countries in the western world.
Canadian Citizenship Within 3-4 Years:
A major advantage of Canada compared to most other western countries is that a permanent resident can become a citizen within about 3-4 years. This is in sharp contrast to most other western nations, where the pathway to citizenship is very challenging; and in most cases, you will never become a citizen.
Visa – Free Travel to over 150 countries:
As of 22 May 2018, Canadian citizens had visa-free or visa on arrival access to 185 countries and territories, ranking the Canadian passport 6th in terms of travel freedom (tied with the Belgian, Irish and Swiss passports) according to the Henley & Partners Passport Index http://en.wikipedia.org/wiki/Visa_requirements_for_Canadian_citizens
Canada is a Multi-Cultural Society
Canada is probably the most multicultural society in the world. It's a multicultural society where all people; cultures; and religions are treated equally and without discrimination as enshrined under the Canadian Charter of Rights and Freedom. All religions are allowed and respected in Canada.
MORE FACTS ABOUT CANADA
Life in Canada
Canada is the second largest territories in the world. It occupies a land mass of about 9,984,670 square kilometers. Canada perhaps is the only country in the world that is rarely in the news for any controversial issues. Canada is popular for being peace loving and one of the most preferred countries to migrate to.
---
Canada's Health Care System
As a Canadian citizen or permanent resident, you will be eligible to get health insurance. Health insurance allows you to get medical treatment without payment from your pocket. Just present your health insurance card to the medical clinic and you will get you medical services. The clinic will swipe your card and then get paid by the government from you taxes.
---
Business Opportunities in US & Mexico:
As the United States is the largest trading partner of Canada, being a citizen of Canada allows you easy access to the United States and Mexico with the ability to extend your employment options to the lucrative U.S. market.
---
Benefits for Children
Free Education:
All children are required to go to school by law so that they have a good education, so they are prepared for life. All education is free up to grade 12 and there are no additional fees needed for a basic education.
Child Care Fee Assistance:
Canadian government provides money to families who have children to help with the upbringing and childcare of their children. Such Financial Assistance includes: The Canadian Child Tax Benefit and the Universal Child Benefit.
---
Education Scholarships, Loans and Grants for School:
Most Canadian educational institutions provide scholarships, low interest loans and free money to academically bright students to help mitigate the costs of education for Canadian students and families.
Children's Savings Plans:
The government of Canada encourages families to invest in the future of their children, by providing money in the form of a grant to savings plans for children so that their education is affordable and to ensure that children receive good education higher education after secondary school.
---
Government Benefits for all Citizens
In addition to all the above mentioned benefits, Canada also provides various types of benefits for its citizens. Examples include:
Unemployment Insurance:
When you lose your job, the government will support you and send you a check to ensure that you can survive, while looking for a new job.
Maternity Benefits:
When you have a new baby and take time off, you get paid
Canada Pension Plan:
When you have worked well and retired – the government pays you retirement benefits.
---
MORE FACTS THAT MAKE CANADA UNIQUE:
Canada has the longest coastline in the world, about 243,000 km in length.
The country shares the world's longest common border with the United States of America, which is also the only unprotected border in the world.
Canada is widely believed to be the home of Santa Claus, which is good news for kids.
It also has the highest tertiary education enrollment in the world, which includes locals as well as international students.
Toronto is the largest city of Canada, with a population of more than 5 million people. Toronto dwellers hold more university degrees than any other big city in the world.
Many inventions including basketball, the electric light bulb, the electric range, the electron microscope, the telephone, standard time, the television, and the zipper, and the first snowmobile were invented in Canada.
Despite being a really big country, it has the fourth lowest population density in the world, with only three people living per square kilometer. About half of the Canadian people were born in other countries.
Adult education is popular in Canada, and there is almost no age limit to study in Canada.
The Niagara Falls, one of the largest and most popular waterfalls is in Ontario.
Half of Canada is covered with forests, which should not be surprising, considering one-tenth of the world's forests are here. It is also home to the polar and the grizzly bear.
The most popular sport in Canada is Ice Hockey.
Canada is also known to have the highest quality of life in the world, according to the United Nations Human Development Index.